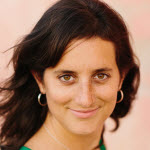 Elizabeth Laraki
Facebook
Elizabeth Laraki is Director of Product Design at Facebook where she leads the design teams for Social Good, Privacy, and Goodwill. The work of her team spans making Facebook a valuable tool during crises, for fundraising, ensuring that people feel safe and know who they are sharing content with, and celebrating special moments with people including birthdays, anniversaries, memories, and other cultural moments). She formerly managed the design teams for Profile, Local and Events at Facebook.
Prior to Facebook, Elizabeth spent six years at Google leading and managing design teams at Google Search, Google Maps, and YouTube, where she worked on challenges such as integrating non-website results into Google search results (e.g., images, places, videos, etc.), evolving Google Maps into a single product that encompassed local businesses, maps, directions, transit, etc., and making it easier to find all of those cat videos you so love to watch on YouTube.
Elizabeth was born and raised in Michigan, studied Graphic Design at the University of Michigan, and did her graduate work in Interaction Design at Carnegie Mellon. Since a very early website redesign for the Red Cross in 2002, Elizabeth has been driven by how she can shape meaningful products and experiences that delight and serve the people who engage with them. She thrives working collaboratively with an interdisciplinary team on products that are at a global scale. Elizabeth lives in the San Francisco Bay Area with her husband and three young sons.