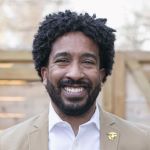 Eduardo Ortiz
CEO, Founding Partner • Coforma (coforma.io)
CEO, Founding Partner • Coforma (coforma.io)
Washington, D.C., USA
Eduardo Ortiz is Chief Executive Officer and a founding owner at Coforma. He was most recently Executive Creative Director at the US Digital Service. He has over 19 years of experience as a software engineer, UX designer, and information architect.
Eduardo co-founded Project100, a women-led, women-focused organization that helped elect 100 progressive women candidates to Congressional office in the 2018 elections. He is a co-founder of BKUX, one of the fastest-growing design communities in New York, and a local leader for the Interaction Design Association (IxDA).
Before co-founding Coforma, Eduardo was Design Director at Ralph Lauren, where he oversaw the re-platforming effort for their e-commerce properties and led the team that made the platform accessible to all. He cherishes working as an advocate and helping to bring a sense of normalcy to those in need.