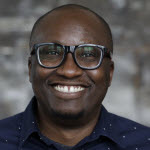 Dr. Dimeji Onafuwa
Microsoft
Dr. Dimeji Onafuwa is a designer and researcher with almost 20 years of combined experience in UX design and research, Transition design, design strategy, service design, social design and design thinking. He has worked in various capacities in the discipline – from a design studio owner to UX consultant and researcher. He is currently a senior researcher at Microsoft, working to build better end-to-end experiences for its employees. He has also taught and given lectures on design at Universities in the US and Canada.
Dimeji earned a Ph.D. in Design from Carnegie Mellon University. While at CMU, his research study sought to understand commons-based, pluriversal approaches to user experience on platforms. He has worked with various collectives to gain perspectives and provide technologies that help them better intervene in social dilemmas through UX design. Before his Ph.D., Dimeji earned an MBA in management from UNC Charlotte and BAs in design and studio art from Concord University.
Dimeji co-founded Common Cause Collective, an interdisciplinary group of designers working for social impact in the Pacific Northwest. He has published papers, a book chapter on design for the greater good, and spoken and conducted workshops on the responsibility of design.
Website: Onafuwa.com
Twitter: @casajulie
Instagram: artbydimeji