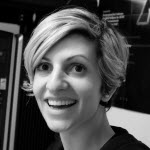 Dalia El-Shimy
Senior UX Research Manager • Miro
Senior UX Research Manager • Miro
Berlin, Germany
Dalia El-Shimy is an engineer-turned-academic-turned-user researcher who is currently a Senior UX Research Manager at Miro.
As one of the first researchers at Shopify, she has helped grow the product research team and discipline.
Initially based out of Shopify's Montreal office, Dalia moved to Berlin in 2020 to help build out research in that location. Before joining Shopify, she completed a PhD in electrical engineering at McGill University, with a focus on human-computer interaction and music technology.
When she's not nerding out about research, Dalia spends way too much time trying to figure out how to adapt her North American baking recipes to German ingredients.