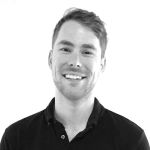 Chris Mueller
Design Director • Blink
Design Director • Blink
San Francisco, California, USA
Chris Mueller is a design director who loves solving complex problems just as much as he loves making things that are utterly pointless.
He grew up in Scottsdale, AZ and studied computer science at Loyola Marymount University in Los Angeles. After a few years in the wild, he realized he was more interested in making cool stuff than analyzing algorithms, so he pivoted to design with a Master's in human-computer interaction from Carnegie Mellon. Before Blink, Chris was leading design and research projects at NASA and Redshift Digital.
Outside of work, you can find Chris at a show, in the woodshop, or getting his heart broken by the Arizona Cardinals.