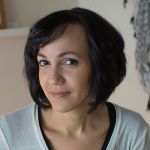 Ashleigh Axios
CEO & Co-Owner • Coforma (coforma.io)
CEO & Co-Owner • Coforma (coforma.io)
Washington, D.C., USA
Ashleigh Axios is an international speaker, strategic creative, and an advocate for design's ability to break barriers and create positive social and cultural change. She is the Chief Experience Officer and a Partner at Coforma, a digital consultancy and design studio that understands that technology, policy, and a critical eye to society's challenges can help bring about equality and improve ways of life. Axios is Chair of the Board of Directors for AIGA, the professional association of design, entering her sixth year of service for the largest and oldest professional design organization. She's also a trustee for Rhode Island School of Design (RISD), where she's an alumnus.
Prior to her role at Coforma, Axios formed and led the in-house creative agency for marketing, communications, and brand identity solutions at Automattic, a technology company on a mission to democratize publishing and commerce. Axios previously served as the creative director and a digital strategist for the Obama White House, bridging two presidential terms in the Office of Digital Strategy. She is also a past president of AIGA Washington D.C., where she formed DotGovDesign, an initiative connecting and empowering government designers with regular meetings, a yearly conference, and an online course.
Axios and her work have been featured in Print, Essence, How, Net, GDUSA, and Offscreen magazines as well as various online publications. She was named one of GDUSA's People to Watch, featured in Essence Magazine as one of the 29 most powerful black women in the Obama administration, and received the DCFemTech Award for being a powerful woman designer on multiple occasions. Axios is a graduate of Rhode Island School of Design. She lives and works in Washington, DC with her husband, Nathaniel Axios.