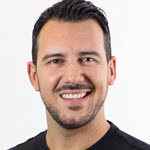 Antonio De Pasquale
Senior Manager • Samsung Experience & Insights Lab Europe
Senior Manager • Samsung Experience & Insights Lab Europe
Milan, Italy
Antonio DePasquale is currently a Senior Manager at the Samsung Experience & Insights Lab in Europe, specializing in HMI and digital experiences design.
Former Design Director at frog and a noted expert in the field of design and innovation, Antonio has over 16 years of professional experience in leading digital products and service design programs for Fortune 500 clients, consulting on design-driven innovation and managing multi-disciplinary creative teams including designers, engineers and developers.
In addition to his role at Samsung, Antonio is also a Professor at SUPSI (Lugano, Switzerland), Mentor and Coach at Interaction Design Foundation, lecturer at Politecnico di Milano and an invited speaker at many international conferences.