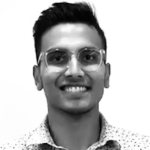 Anirudh Kedia
UX Researcher • Blink
San Diego, California
Anirudh (Ani) Kedia (he/him/his) is a UX researcher at Blink's San Diego studio. Ani believes that the efficacy of a product – however innovative and novel it may be – is ultimately determined by its usability. UX research, if done correctly, can help unlock the full potential of a product.
Prior to Blink, Ani worked with the innovation team at Nationwide Insurance as a UX research intern where he was responsible for researching how users could be motivated to re-engage with a new home improvement project management tool. Ani received his MS in human factors and industrial organizational psychology from Wright State University in Dayton OH where he investigated how expert pilots make decisions. Ani's passionate about understanding how the human mind and machine systems work interactively.
Outside of Blink, Ani is a cricketer, foodie, fitness enthusiast and a writer on Medium where he posts blog articles about UX. You can find him experimenting in the kitchen, playing any kind of outdoor sport, and fanboying about sneakers. Ani values freedom and equality for everyone in all spheres of life.