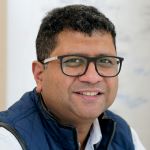 Anijo Punnen Mathew
Interim Dean • IIT Institute of Design
Interim Dean • IIT Institute of Design
Chicago, Illinois, USA
Anijo Mathew is the Interim Dean of the Institute of Design (ID) at Illinois Institute of Technology (IIT) in Chicago, USA. He has been on the faculty of ID for over 13 years. Previously, he served as the Head of the Department of Art and Design at the American University of Sharjah in the UAE. His research evaluates new models of innovation enabled by technology and media convergence through the lenses of design fiction, design-led innovation, and entrepreneurship. He works with global organizations to adapt and change strategic responses to transforming technologies.
Anijo is the founder and board member of Vamonde, a Chicago storytelling app operating worldwide and named by Built in Chicago as one of six Chicago startups shaping the future of virtual reality.
A native of India, Anijo holds a PhD in Design Computing from The Open University in the United Kingdom, a Master's in Design Studies from Harvard University's Graduate School of Design, and a professional Bachelor of Architecture from Birla Institute of Technology Mesra in Ranchi, India. He has taught at Harvard University's School of Business, University of Chicago Booth School of Business, and IIT's Stuart School of Business.
He has served as an advisor and consultant to several Asian organizations, such as the Dubai Future Foundation in the UAE, Godrej & Boyce in India, the Far Eastern Group in Taiwan, and Finablr in the UAE, advising senior leadership on strategic innovation projects.