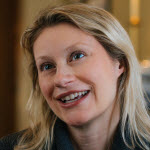 Alexandra Cahill
Capital One
Alexandra Cahill leads Conversational AI Learning at Capital One. She believes having a meaningful conversation is both an artistic and scientific endeavor. Therefore, she is super excited to spend her time analyzing conversations both qualitatively and quantitatively. Alexandra's goal is to help Capital One test and learn its way into a smart AND empathetic intelligent assistant –
Eno.
Alexandra's worn various hats in her career so far, and she loves taking on new challenges. Prior to focusing on AI Design, Alexandra advocated for customers as a UX Content Strategist and Data Product Manager at Capital One. Before joining Capital One, Alexandra was a Product Manager at Bundle where she realized her passion for designing customer-first experiences. Prior to Bundle, Alexandra worked as an Analyst at Bank of America and Researcher at Standard & Poor's. She's also spent some time working at a talent agency and reading scripts for a production company.
Alexandra was born and raised in Manhasset, NY (a suburb of NYC). She grew up competitively figure skating with the goal of competing in the Olympics. Alexandra's parallel intense focus on academics ultimately landed her at MIT instead of Nagano. At MIT, her passion for both humanity and science led her to earn a B.S. in Political Science as well as to take on various internships in entertainment and politics – "The View," Senator Kennedy's office, Warner Brothers, and Hillary Clinton's first Senate campaign to name a few.
Last BUT DEFINITELY NOT LEAST – Alexandra is an enthusiastic new mom to 9 month old son Anderson, committed partner to husband Adam, loving daughter to Pam and Lewis, grateful sister to Jason, and proud "mom" to dog Chloe!