Puget Sound UX Super Meetup '20
Design is a Team Sport with Jared Spool
March 4th • The Westin Seattle • 5:30-7:30pm
Ticket sales for this event is closed. We look forward to hosting over 300 members of the Puget Sound UX community.
This activity is included in the registration for all ConveyUX conference participants. Just show your badge as you enter the event.
Every seasoned designer has fallen into the trap. They see the bad design in front of them. They can't help but see how bad it is. And they want to redesign it. Show the world how it could be done. How it should be done.
Well-intentioned as the desire to rid the world of this bad design is, their approach often is a disaster. It pushes their allies away, accidentally giving off the air of superiority filled with the smells of arrogance and contempt.
An alternative is a well-designed process for creating your designs. The secret sauce in that well-designed process is a realization and inclusiveness of everyone on the team. It's infused with an understanding of how people contribute to the design process, even when they aren't trained in design skills. And it opens up opportunities to give everyone—not just your trained designers—the superpowers necessary to rid your products and services of bad design.
This talk will inspire you and your team to:
Realize the reason everyone thinks they are a designer is they are a designer, however unskilled
Learn that our design processes need to be designed, with intention and thoughtfulness
Focus on helping every contributing influencer of your designs become a consciously competent designer themselves
About the Super Meetup
Our Puget Sound user experience meetup groups are gathering together for the annual Puget Sound UX Super Meetup taking place Wednesday, March 4 in Seattle. Join us for an evening of knowledge sharing, networking, and socializing.
The Super Meetup is sponsored and subsidized by a collaboration of sponsors and your local UX organizations. By registering for this event, you acknowledge that sponsors and meetup groups may contact you.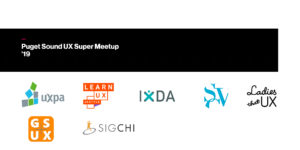 With the ConveyUX Conference as a host for this meet-up, UX professionals from Puget Sound and visitors from outside the area can enjoy a unique opportunity to share their ideas and make new friends. This activity takes place at The Westin Seattle.
Agenda
5:30-6:00 Check-in and Socializing
6:00-7:00 Presentation and Q&A
7:00-7:30 Networking
Complimentary snacks and soft drinks
Alcoholic beverages for purchase