Puget Sound UX Super Meetup '19
The State of UX for Roles, Skills, and Opportunities
March 12th • Bell Harbor Conference Center • 6-8pm
Featuring Jaime Levy, Danyell Jones, Sara Cambridge, Dan Klyn; moderated by Shayna Atkins
Our Puget Sound user experience meetup groups are gathering together for the annual Puget Sound UX Super Meetup taking place Tuesday, March 12 in Seattle. Join our fabulous panel of user experience luminaries for an evening of knowledge sharing, networking, and socializing.
The Super Meetup is sponsored and subsidized by a collaboration of sponsors and your local UX organizations.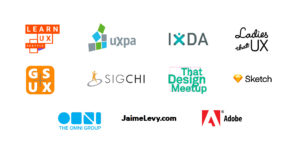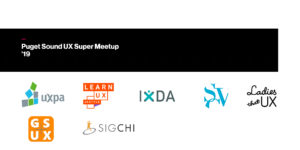 This activity is included in the registration for all ConveyUX conference participants. Just show your badge as you enter the event.
Over the past 20 years or so, user experience has transformed how we think about research and design. Tools, techniques, and educational programs and degree have evolved to support and expand the field of UX to be a central part of most product development efforts. There has been so much growth that UX has fragmented into sub-domains like SX, CX, EX, and more. What does that mean for career planning? How does it affect us today and moving into the next decade? Panelists will explore these questions as well as take questions from you. Enjoy an evening with your UX colleagues and our expert panel. Leo Zhang will be giving away prizes and introducing the panel that includes: Jaime Levy, Danyell Jones, Sara Cambridge, Dan Klyn; moderated by Shayna Atkins.
With the ConveyUX Conference as a host for this meet-up, UX professionals from Puget Sound and visitors from outside the area can enjoy a unique opportunity to share their ideas and make new friends. This activity takes place at the Bell Harbor Conference Center.
Agenda
6:oo-6:30 Check-in and Socializing
6:30-7:30 Panel Discussion and Q&A
7:30-8:00 Meet the panel and Networking
Complimentary snacks and soft drinks
Alcoholic beverages for purchase