Mobile Design for the "Non-consumer" World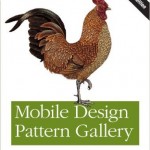 As a designer responsible for enterprise or B2B software, you face challenges that B2C designers can't even imagine. While they play around with different button colors, you're solving problems like how to visualize big data, keep planes in the air, and build system critical dashboards. Throw in the mobile form factor and your job just got exponentially harder.
Theresa Neil has spent the past 14 years designing complex systems for everything from data transformation to finite element simulation. She has a deep expertise in designing native applications that support or replace legacy systems.
Her half-day workshop takes you through the most common problems she's encountered with mobile design in 'non-consumer' world, and the solutions she's uncovered.
The workshop covers three major topics:
Identifying Uniquely Mobile Opportunities (and How To Avoid the Duplication Trap)
Mobile UI Design Principles and Patterns
Simple Ways to Prototype and Validate Designs
Workshop attendees will leave with:
New techniques for brainstorming mobile opportunities
UI design patterns for some of the trickiest areas of enterprise apps: complex navigation, grids, filtering, and more
Exposure to the newest tools for prototyping, testing and collaboration