"What if McLuhan is right? Suppose he is what he sounds like – the most important thinker since Newton, Darwin, Freud, Einstein and Pavlov?" – Tom Wolfe (1969) 
Folks from within the community of UX practice have been calling for the death of the wireframe since the early 'oughts. And now with the rise of Agile, the death-knell is ringing from without. Just so you know: they are coming for the rest of our deliverables.
How in today's Lean world do we situate the role of depiction and documentation in our process? If in the past we were doing it wrong, how do we go forward doing it right?  
This presentation will introduce the audience to Marshall McLuhan's four laws of media as applied to UX design and software development.  Attendees will learn how to analyze the media we use to depict, deliver and approve our ideas while avoiding subtle and pernicious traps that lurk in the interplay between medium and message.
Location:
Date: January 23, 2015
Time: 10:15 am - 11:00 am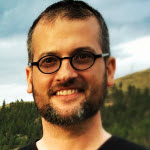 Dan Klyn
The Understanding Group