Fall 2020 Featured Speakers – Chris & Ellen
ConveyUX kicks off this year with two of our finest featured speakers – Chris Risdon on Day 1 and Ellen Gottesdiener on Day 2. Join their opening sessions and interactive workshops.
Throughout his 25-year career, Chris Risdon has sought to humanize technology.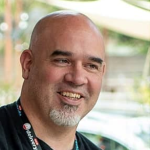 We know early design stages involve researching the customer and crafting a name brand. Chris will explore how important it is to keep that original signal strong throughout the many design phases and project complexity levels. He will show us how to maintain this sense of purpose and direction in his opening session, Share the Vision: Using Principles, Evolution Maps, and Stories to Make Better Products.
During his two-hour workshop, Defining and Using Experience Principles, Chris will demonstrate how to align an organization to work collectively towards the same good. The biggest takeaway will be how to define and use "experience principles" from strategy through delivery, never losing sight of your customers in the process.
Make the most of your time with Ellen – an Agile Product guru of our time. Since founding EBG Consulting 30 years ago, Ellen has helped clients propel and transform their product, amplify discovery to accelerate delivery and maintain clear vision.
Join her opening session – What is Your Product? – for tools and techniques to clarify your product. Learn from the instigator and innovator of the Agile community how to achieve healthy teamwork and strong organizations through collaborative practices and skilled facilitation.
Furthermore, Ellen will draw upon her personal experience with Healthcare, Pharmaceutical, Financial Services, Energy, and Consumer Product industries to leaven her two-hour workshop, Product Backlog Refinement With Structured Conversations. Discover the right product requirements, refine them for delivery, and deliver them to the right customer. You will leave with a set of useful questions and visual models for conducting efficient and effective backlog refinement for your product.
Mark your calendars!